Application Products
1950s
August, 1955: Japan's first transistor radio, TR-55 (Sony)
The TR-55 weighed 560 g, had five transistors, and was powered by four AA dry-cell batteries.
Remarkably compact (89 mm  140 mm  38.5 mm), the TR-55 debuted as a completely new type of radio. While Regency in the U.S. had earlier released the world's first transistor radio, Sony's TR-55 was the first commercially successful transistor radio in Japan and worldwide.
Other Japanese manufacturers joining the industry led to transistor radios becoming a major Japanese export. This success paved the way both for the use of semiconductors in many future consumer electronics products, including TVs, VCRs, and the Walkman, and for Japan to be a leading nation in the field of consumer electronics.
Sony was also a frontrunner in adopting the vertically integrated business model, which catalyzed further growth of the semiconductor industry.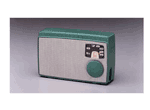 Sony TR-55
1955: Japan's first transistor-based computer is developed (Electrotechnical Laboratory)
The Electrotechnical Laboratory, under the Agency of Industrial Science and Technology of the Ministry of International Trade and Industry, completed the development of Japan's first transistor-based computer, the ETL Mark III, in 1956.
Encouraged by this success, the laboratory followed up with the Mark IV in November 1957, and then a Mark IV A that operated several tens of times faster due to an improved magnetic drum and newly developed magnetic core storage.
The Mark IV A featured 470 junction transistors and was the fastest computer in Japan until the debut of Tokyo University's faster parametron-based computer, the PC-2. These events raised hopes for launching a commercial-computer business in Japan.
1958: Transistor-based computer is completed for practical use (NEC)
NEC completed their first transistor-based computer, the NEAC-2201. The NEAC-2201 was based on the ETL MARK IV made by the Electrotechnical Laboratory.
It consisted of a main computer unit, a console, input/output devices (a paper-tape punch typewriter and a photoelectric tape reader), and a magnetic drum for use as the internal memory unit. With high-speed germanium-alloy transistors for the circuit elements, the NEAC-2201 was a unique computer that exclusively employed Japanese-made components.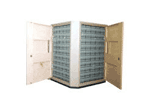 NEAC 2201